TOP
2018 Redford-Wetle Gamay Noir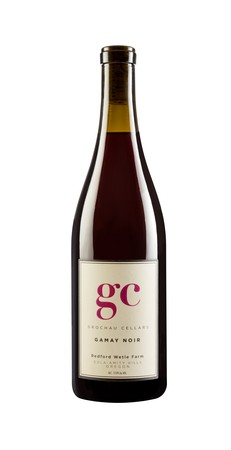 Wine Specs
Vineyard Designation
Redford-Wetle Vineyard
Redford-Wetle Farm: A certified organic vineyard the Eola-Amity Hills AVA. Sitting on an eastern-facing slope with a blend of volcanic Jory and Nekia soils.

Vintage: The growing season started with a cool spring and bud break in mid-April, but once we hit the last week of April the weather changed significantly. The last week of April we hit 80 degrees in the Willamette Valley, normal highs for this time of year are around 65-70 degrees. This warmth sustained through August without any significant rain. We were setting up for an early and warm harvest—something not very exciting for Oregon winemakers—until rain started to fall on September 11.Winemakers are weary about rain this close to harvest, but if there was ever a year where it was needed, this was it. After months of hot weather and no measurable rain, we received 1.25 inches over four days. The plants were "freshened up" and given new life to finish the ripening of the fruit.
After the rain came three weeks of sun, with highs between 74 – 84 degrees. The combination of the rain and mild temperatures let us hang the fruit longer for flavor development, while keeping fresh acidity and moderate sugars. Due to a warm and dry summer, the size of the grapes were small, giving us higher concentration along with more tannic structure.
Wine Specs
Vineyard Designation
Redford-Wetle Vineyard